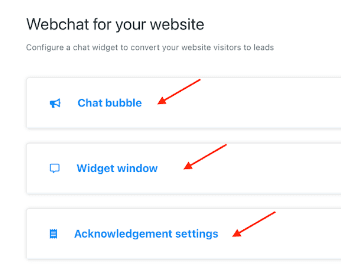 You can create a chat widget in the system to add to a funnel or website page, to increase your opportunities to communicate with clients. Follow the steps below to create a widget and use it on a funnel or website page:
Step 1: How to Create a Chat Widget
Navigate to the "Chat Widget".
There are 3 tabs of customization for setting up your chat widget: Chat bubble, Widget window, and Acknowledgement settings.
Customize the various aspects as you wish, and you will see your changes reflected in the preview on the right-hand side.
Click Save to confirm your changes.
Click "Get Code" and copy the code that appears in the pop-up window.
Step 2: How to Add the Chat Widget to a Funnel or Website
Navigate to Funnels or Websites.
Click into the Funnel or Website you want to add the chat widget to.
Navigate to Settings.
Paste the code into the "Body tracking code" field. Click Save.
NOTE: You can preview the funnel or website, and refresh the page to view what the widget will look like for contacts visiting your funnel/website page.
Check out our other article for how to create trigger notifications for new chats!