This troubleshooting guide aims to assist you in resolving issues with your Facebook page. If you encounter any difficulties, please carefully review the steps outlined here to see if they address your problem. If the issue persists, kindly provide us with details of what occurred so that we can work towards finding a solution for you.
Suppose you are experiencing an issue where your Facebook pages are not appearing in the list when connecting them with GHL Connector. In that case, ensure your Facebook account is connected correctly and has the necessary permissions. To troubleshoot this issue, please follow the guidelines outlined below:
Step 1: Access your Facebook Settings Login to your account and go to the Settings section. From there, navigate to Business Integrations. Alternatively, you can directly click on the provided link to access it.
Step 2: Select GHL Connector Application. In the Business Integrations section, locate the GHL Connector application. Once you find it, click the "View and Edit" link.
Step 3: Choose Pages to Connect. Upon clicking the link, a popup window will appear. Ensure you grant all the necessary permissions and select your desired social channels, including the pages you want to connect. If any channels are unchecked, you can select them from this window.
Step 4: Save Changes and Reconnect After making the required permissions and page selection changes, save your settings by clicking the Save button.
Now, proceed to the Settings section in Social Planner and connect your Facebook pages again. This time, you should see all the previous pages not appearing in the list.
Facebook Post Failed to Publish: Troubleshooting Guide
If you encounter errors while trying to publish content on Facebook and wonder why your posts didn't appear, we have compiled a list of the most common reasons for these errors:
Abusive/Reported Content/Link Goes Against Community Standard: Your message couldn't be sent because it contains content reported as abusive or inappropriate by other Facebook users. Similarly, your content couldn't be shared if the provided link goes against Facebook's Community Standards.
Error validating access token: This error occurs when your session or access token to Facebook has expired. It can happen if you have recently changed your account password or haven't made a post to Facebook in the past 90 days from Social Planner.
Two-Factor Authentication: If the business page you manage has enabled two-factor authentication, you must also enable it at your account level. After enabling it, reconnect your account to avoid this error. Note that you must be an administrator, editor, or moderator of the page to impersonate it.
'manage_permissions' must be granted: If you publish content to your client's social media pages and they have added you as an administrator, you may encounter this error. Ensure that you have administrative access to those pages and, while connecting the account, allow the manage_permissions to the Pages section. This will ensure the smooth publishing of your posts.
Missing or Invalid Image: If you have scheduled social media posts and the link you share with an image is no longer accessible, you will encounter this error. Ensure the link is valid to avoid this issue with your social posts.
An unknown error occurred: This error usually indicates that your Facebook page access token has insufficient permissions to publish content consistently. To resolve this, reconnect your pages and ensure that you grant all necessary permissions while connecting your Facebook Page.
The URL you supplied is invalid, or this link could not be posted: Sometimes, when Facebook servers are overloaded, they cannot index the link provided in your message during the request time. As a result, one of the errors mentioned above may occur. However, Facebook usually indexes the link later, so trying again after a few minutes resolves the issue.
I cannot reconnect a page/group in the Social Planner: If you need help reconnect a page or group in the Social Planner, please refer to our support team for further assistance.
Following these troubleshooting steps, you can address common issues and ensure the successful publishing of your content on Facebook.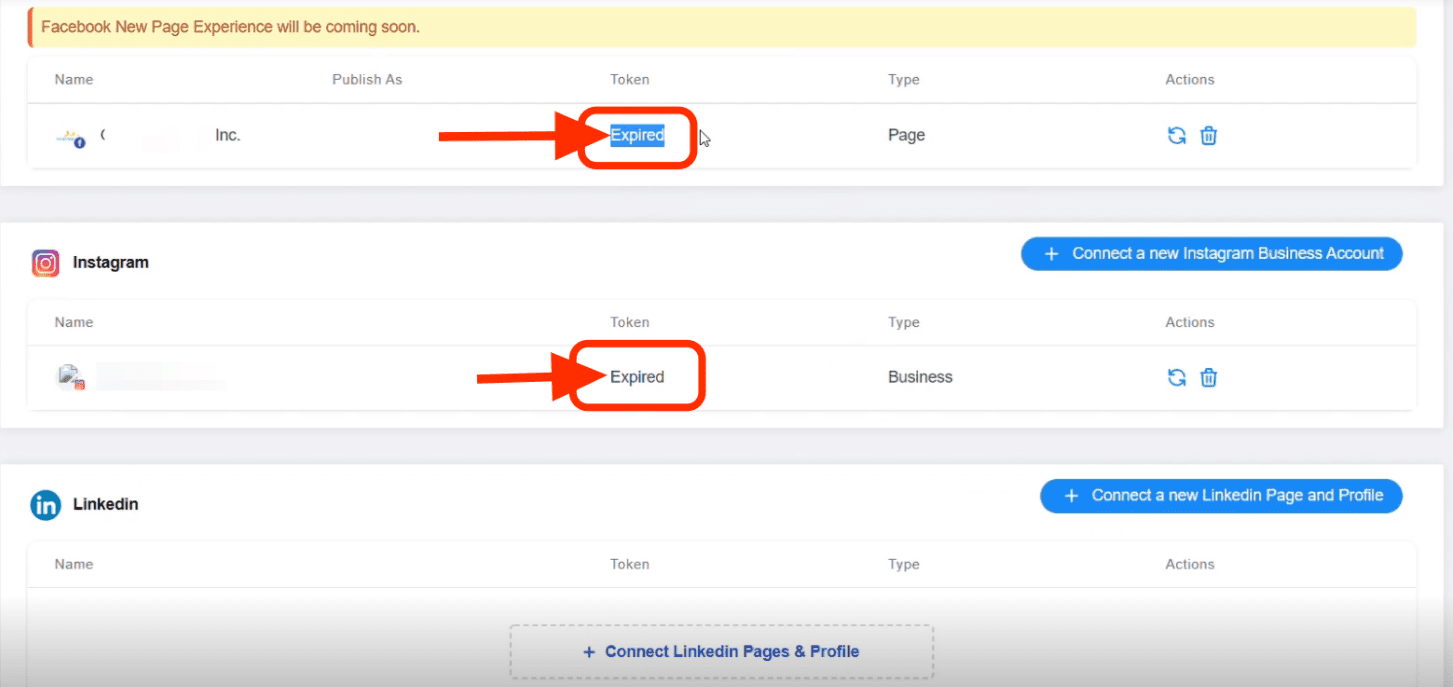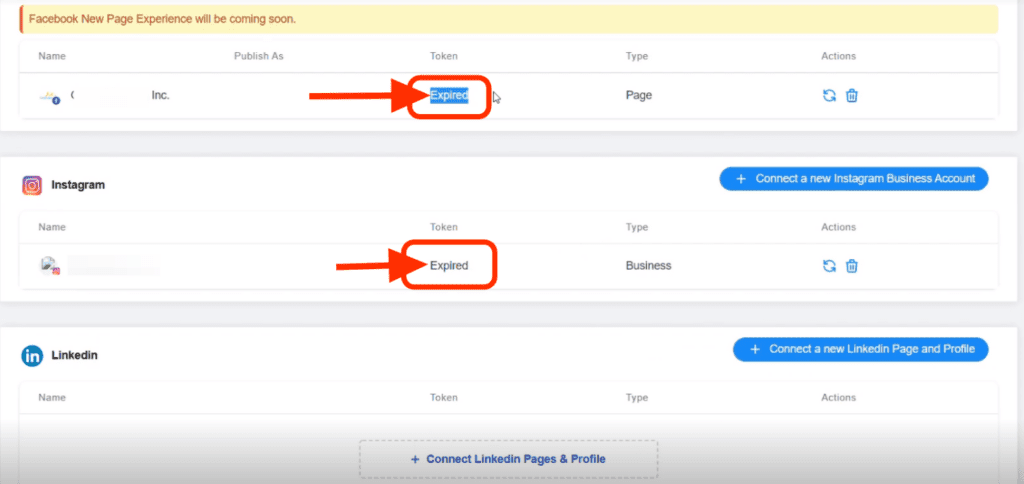 You can reconnect a page/group in the social planner tab. First, you can use the same social media account that was originally used to connect the page/group to the location. Alternatively, you can have the current user go to Settings, navigate to Integrations, click on the disconnect button, and then click on the connect button for the accounts with expired tokens.
Please note that the user attempting to reconnect must be a page admin. After completing the reconnection process, return to the social planner and verify if the social token is still expired.