What is GoHighLevel?
Gohighlevel promises to be the perfect solution for small business owners, agency owners and even anyone really looking to start a marketing agency from home, and entrepreneurs who want an all-in-one sales, SMMA and marketing automation platform. In this review, we'll take a look at how Gohighlevel can help you grow your business, how easy it is to use, and any pitfalls you should be aware of before signing up.
I've been actively using GoHighLevel for 2.5 years, and in that time the product has had so much functionality added to it, that any GoHighLevel review written would have to have been updated 25 times for it to be worthy of your time and attention. So with that in mind, at the time of writing this – HighLevel Summit just finished, I am just about to interview Shaun Clark, the CEO to talk through all the changes, I have a good solid foundation for writing what I think is going to be the best GoHighLevel Review for 2023.
Pricing for GoHighLevel is as follows
$97 Per month – this is for single account usage
$297 Per Month (Agency Unlimited Plan)
$497 Per Month (SaaS Pro Plan)


So What is GoHighLevel?
GoHighlevel combines all of the most useful online advertising and digital marketing tools under a solitary umbrella. GoHighlevel is an online marketer's friend, and with small businesses needing to stay ahead with social and reputation management, having an all-in-one tool is a breath of fresh air. It replaces so many applications, no need for clickfunnels, no need for mailchimp, no need for hootsuite, no need for calendly, no need for wix, the list goes on and on, and in fact that list is getting bigger and bigger as time goes on.
There are two ways of looking at GoHighLevel's features, functionality and infrastructure. First, as a busines owner, who wants to get the best marketing tools available to them, and secondly, if you're already a marketing agency, and you're looking for a better way to serve your customers, then using GoHighLevel as a marketing agency is going to literally transform the way you do business, the length of time your customers stay with you, and so much more. There's a lot to cover, so let's get to it – or simply grab your GHL free trial right here and try it yourself!
Before you START with GoHighLevel
important to ask yourself how you intend to use it. Its a multi-layered application, that is both an end user product for businesses, but also a multi-tenanted saas application in its own right, giving those would be agency owners the ability to have an infinite number of customer accounts contained within their "agency account". This is where the scale of HighLevel lies for agency owners, and would be SaaS mode operators.
To review GoHighLevel properly, we need to talk first about the feature set available to end users, and then zoom out for a 30,000 ft view of what's possible on the Agency Pro and Agency Pro Unlimited plans, giving birth to a world of possibilities beyond just digital marketing, automation and reputation management.
let's dive into the end user product, and focus on each set of functions as they relate to solving real world business problems.
Let's start by looking at the major functions that any business owner would benefit from using.
Google My Business integration
Easily one of the most powerful integrations that GoHighLevel has, is its integration with Google My Business. With a single click, you can start having conversations through GMB messaging directly in HighLevel, you're able to instantly see a dashboard showing you your latest reviews, while providing simple and easy functionality to start requesting reviews via email, SMS and even widgets for your website.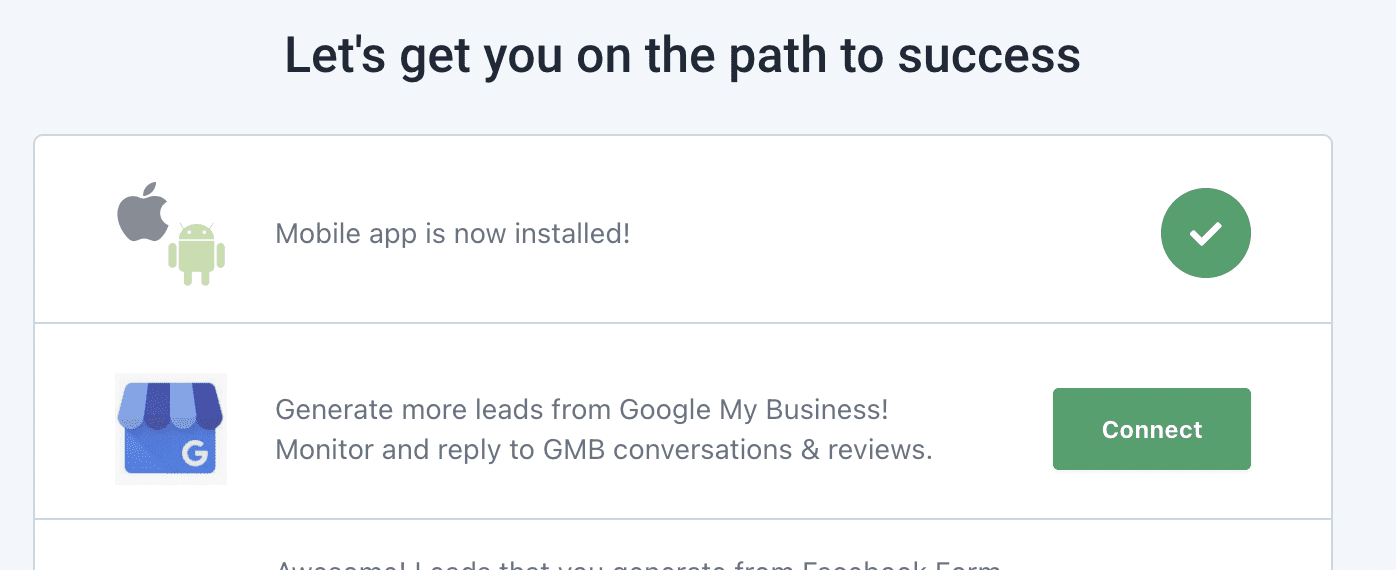 Seriously, its a single click, and once you're integrated, clicking on Reputation Management inside the GoHighLevel main menu opens up a new awesome dashboard with a tonne of options 🤓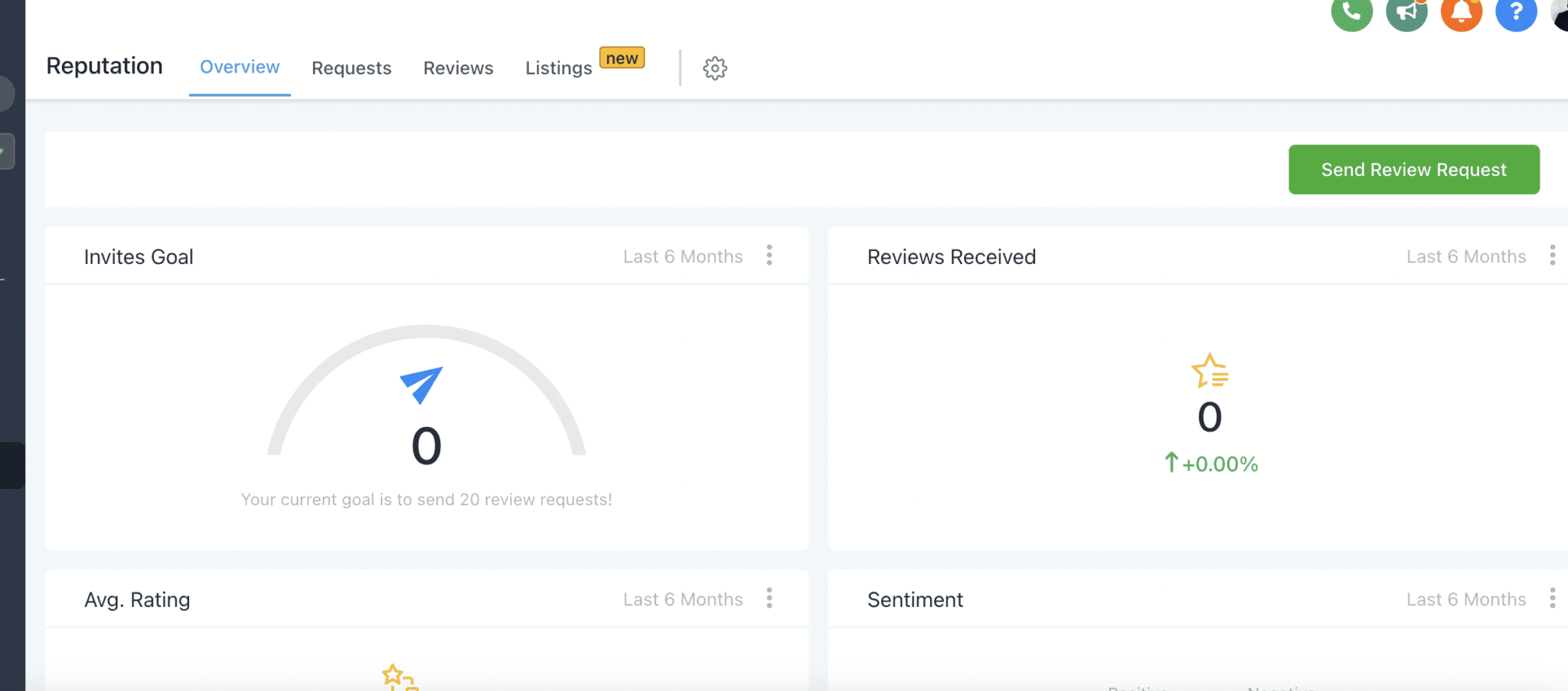 In a matter of seconds you're now presented with a dashboard, that enables you to use reputation management as a marketing weapon in your arsenal of digital marketing tools.
You've now got access to a goal number of invites, reviews received, average rating, sentiment tracking and analysis
Why does this matter? Watch the video below
For more information on how to use this feature, check out the below guides
Google My Business in Campaigns
Digital Marketing with GoHighLevel
Fundamental to GoHighLevel as a digital marketing powerhouse, is the ease of which it integrates with digital marketing platforms, social media accounts and google business (formerly google my busines) accounts creating the ultimate uniformity for any business marketing their products and services online.
You could say, "so what, hubspot, x, y and z do this already" but stay with me, because the magic of HighLevel is what you're able to do with the leads once they're already captured.
Let's start with other PPC platforms
Google Ads
So once you're integrated into some of the paid marketing services like Google Ads you're able to then report on this information and that is critical to marketing operations marketing is usually campaign driven so having a nice easy way to report on campaign information to derive ra why is super important for attribution
So with Google Ads with GoHighLevel CRM being fully integrated with one screen we can go to the reporting screen and then since October 2022 there is a brand-new user-interface which displays the effectiveness of our Google ad campaigns it will cover things like how much your client is spending the average cost per click across all the campaigns conversion rates and cost per conversions now it's important know that this is split up as an aggregate of all the campaigns that you're running it'll show things like the current status and number of clicks how much revenue that's produced and so that's when that's really important in terms of working at attribution because we're able to directly attribute conversions back to the campaigns that acquired the lead in the First place.
This makes the gohighlevel CRM a perfect marketing attribution reporting tool as well as a lead automation system.
Moving on to Facebook Ads, similarly to Google Ads, as does Google with regards to the number of campaigns that you running your spend cost per click and cost per conversion whether you running Google ads on its own or Facebook ads on its own the idea here is to have one user experience to access both advertising platforms to get an understanding of which ppc campaigns are performing the best and driving the most return on investment and revenue for either yourself or your clients.
To get started with Highlevel, click here.
In addition to this we've got the attribution reporting attribution reporting can be looking at Attribution reporting can be looking at where the most traffic comes from in terms of the source that's providing the most leads
you can look at who's referring you from third party websites and which campaign is producing the most users and visits to things like landing Pages funnels and ultimately conversions In addition to the source report you've got something called a conversion report what the conversion report will do is a look at how much revenue has been closed over the number of opportunities were created and then attempt to a tribute that back over to campaigns across paid media. For marketing agencies who never had such simple access to cross promotional reporting before, this is the first step in consolidating and simplifying that process.
Universal Conversations Inbox
One of the best features of GoHighLevel is the universal conversations inbox. No matter where a conversation originates from (email, facebook messenger, instagram DM, Google Business profile/messenger, SMS and beyond) every conversation is consolidated into one user experience. Seen below
For small local businesses, service businesses, or even big B2B brands, having the ability to see all your interactions, conversations across multiple platforms in a single view is insanely valuable.
Not only this, but Text 2 Pay is also available via SMS and Stripe, enabling businesses to accept payments with their customers from anywhere.
The system also allows for sending SMS & Email templates, and connecting to bots, to have the entire conversation on your behalf.
To get started with Highlevel, click here.
Calendars
GoHighLevel has an insane amount of functionality in the calendar system.
Replaces: Acuity, Calendly, Calendar Bridge, Hubspot booking links, any other booking system, ever. (Savings $99 monthly)
At the time of writing this, HighLevel gives you the option of creating 2 types of calendars, Round Robin Booking calendars and event booking calendars.
Round robin would be suited for lead assignment rules, where leads need to be assigned to a practitioner, sales rep or staff member in an even way. The alternative to this of course, is assignment based on availability.
Event Booking is suitable for a single person, booking a single event.
Collective Bookings, as can be seen in the screen shot, are coming soon. This is a significant step in the development of calendars, and arguably the only thing that was missing from GoHighLevels functionality set, the ability to have many attendees register a single timeslot.
However, I cannot overstate how much flexibility GoHighLevel calendars have in them. Take a look at the screenshots below
In page 1, we see Custom URL branding, titles with system variables, distribution selection and more
Duration, intervals and scheduling preferences are all in Page 2
And finally, the ability to add a form that mandates a user making a booking complete before the booking is submitted, caching contact information, accepting payments, syncronisation options and so much more…..
For a full breakdown on calendars, watch this
To get started with Highlevel, click here.
Pipeline and Opportunity Management
Replaces: HubSpot, Pipedrive, Salesforce (Savings $497 monthly and upward)
HighLevel can compete head on with any CRM with regard to Opportunity management and pipelines. What's even better, the realtime database, and drag and drop functionality make the user experience magical.
An infinite number of pipelines, and custom stages can be created (usually limited to 2 or 3 before your slapped with hugh subscription fees for larger plans)
And now with the release of the company object inside the GoHighLevel CRM, you really don't require a legacy CRM. I personally switched off my Hubspot subscription earlier this year, and I have never looked back.
To get started with Highlevel, click here.
Invoicing, Payments and Subscriptions
This area of the HighLevel CRM has come leaps and bounds in 2022. Recurring invoicing, tax settings and configurations, subscriptions, order management, transaction management and invoicing is all under one roof.
Replaces: Any small business invoicing tool, ever. (Savings of $99 per month)
Create invoices (one-off), recurring invoices, any custom terms and conditions, any tax setting and integrate with Stripe and Paypal, even use coupons.
To get started with Highlevel, click here.
Social Planner
Replaces: Hootsuite, SocialPilot, Thryv (Save $99 per month and upward)
That's right, HighLevel even has a social planner and scheduling tool baked right in. Connect any number of social accounts, plan and schedule months or years worth of social posts.
How about uploading a large batch of posts via CSV file? Yes, you can do that with GoHighLevel, how about picking from a massive library of social templates specifically tailored for any industry? Yes, GoHighLevel social planner also does that….
How about being able to instantly apply any number of social posts when a a new agency customer subscribes to you, through the snapshot functionality? Yes, they do that too.
To get started with Highlevel, click here.
Email Marketing
Replaces: MailChimp, Aweber, ActiveCampaign (saving of $99 per month an upward)
Yep, we're not done replacing apps yet. Now you have replaced Mailchimp, Activecampaign and more as well, no more third party integrations and zapier connections keeping email marketing and data silo'd away from your actual lead data.
Import from Mailchimp or ActiveCampaign and migrate away from them, in a single click
Or select from hundreds of prebuilt templates
Or create your own from scratch
This is an enterprise level email template builder, and designer. Drag and drop elements onto the canvas to create your email, format till your heart's content with supporting custom CSS, and so much more.
To get started with Highlevel, click here.
Trigger Links
Simple yet powerful native functionality is the TriggerLink system. This allows you to track certain actions inside emails, SMS messages and landing pages which can inform behaviour and trigger additional actions to help drive more conversions.
To get started with Highlevel, click here.
Affiliate Manager
Replaces: refersion, firstpromoter (savings of $197 per month)
Want to build, and run your own affiliate program? Yes, that's baked in too.
Funnels
Replaces: Clickfunnels (save $297 per month)
There is too much information to include in this review of GoHighLevel, but the funnel system is the most powerful, and robust on the market.
Features include, but are certainly not limited to
A/B testing
Custom domain mapping
Infinite steps
Visual WYSIWYG Funnel Builder
Check out
Analytics
Tracking with custom code, Facebook pixels
Stripe integrations and checkout
Cart mode and analytics
Here's a list of things being released at the time of writing this review and coming next quarter (January 2023)
For best practices using Funnels in GoHighLevel, click here.
To get started with Highlevel, click here.
Websites and Blogs
Replaces: Wix, WordPress ($99 per month and upwards)
Having a web presence doesn't mean having a website. In small and local business terms it can actually mean the opposite, having the highest rankings on Google Maps and better social media. But fear not, if a website is required, that's also baked into GoHighLevels website builder.
Fear not, there are 1000's of templates to choose from too.
To get started with Highlevel, click here.
Memberships and Learning Management
Replaces: Kajabi, Udemy (savings $99 per month and up)
GoHighLevel has a learning management and membership system BAKED RIGHT IN.
To get started with Highlevel, click here.
You can create an unlimited number of products, and then an unlimited number of offers for those products inside the system. Granting customer access to any area of your library of digital products at anytime. And yes, there are templates to choose from.
Of course, you can customize to your hearts content.
In addition to offering these courses via desktop, you can now enable PWA (progressive web apps) so customers can take your courses with them wherever they go, on mobile devices.
And of courses, customizing not just logos, colour schemes and SEO settings, we do everything down to the domain as well
Forms
Replaces: GravityForms, an almost uncountable number of WordPress plugins, add-ons to Wix and so on. (save $49 per month and upward)
GoHighLevel has its own form builder, allowing for custom fields. These forms can then be integrated into other areas of the system like, landing pages in funnels, websites, and more or simply embedded into any external webpage.
The submission of these forms can then trigger any number of actions, like l;ead automation response, management and communications.
To get started with Highlevel, click here.
Surveys
Replaces: typeform, surveymonkey (savings of $99 per month and up)
The survey system in HighLevel isn't built like SPP for enterprise wide statistical analysis. You wound't use it to conduct a national sensis. But you can use it for asking questions, letting users know where they are up to in their progress of answering the questions, and then using those answers to segment, and take action on the information obtained. Which is 80% of what surveys are used for. If not more.
To get started with Highlevel, click here.
Chat Widget
Replaces: intercom, drift, gist. (save $299 per month an up)
On page chat, that redirects conversations into SMS based conversations is the value behind the GoHighLevel chat widget. Its value agency owners can offer customers at no extra cost, which helps catch more traffic and converts more consumers into customers through mediums they prefer to consume, like SMS and texting.
Its extremely easy to install, through a wordpress plugin, or installing the code on any other website.
The beauty is then the entire conversation is tracked against the contact inside the CRM forever, and the contact is created automatically.
Workflow
Replaces: Zapier, Integromat, Pabbly, and more (savings of $499 per month and up)
The most powerful part of GoHighLevel is the workflow system. Without question.
With almost any piece of information acting as a trigger, workflows truly transform how businesses can operate in the web 2.0 world of apps and automations.
Appointment reminders, automatic booking bots, automatic emails, facebook and google advertising actions, updating and enriching the CRM data, the list goes on. This section of the system really needs an entire series of articles on it to do it justice, it is truly a masterpiece of business process automation.
Nothing I have ever seen compares to the simplicity, and power that this system has. Like running IF/ELSE conditional statements right in a workflow, firing off other workflows based on the results of the currently active workflow, and SOOOO much more…
Watch this video for more in depth coverage on Workflows
Power Dialler
Need to build a call centre. GoHighLevel's powerdialler is, you guessed it. Baked right in.
Replaces: Aircall, Dialpad, Talkdesk (save $199 per month an upward)
A baked in powerdialler, full call analytics across all users and phone numbers, leaderboard, call recording, statistics and comparitive analysis are seriously 1 click in GoHighLevel.

How about Agent level reporting, with how much pipeline they're activities have affected, the revenue they've created at the bottom line, and how they compare to others in they're team? Yep, all baked in.

Agency Functions
The beauty of GoHighLevel beyond all these amazing features is of course the fact that marketing agencies and social media marketing agencies alike, can now whitelabel the GoHighLevel CRM and make it their own.
To get started with Highlevel, click here.
Sub Account Reporting
When you've got multiple agency customers, the ability to provide accurate reporting into the performance of their campaigns, and show proof of activity is hard. Not anymore, with GoHighLevel
Report on all, or individual accounts with a few clicks.
To get started with Highlevel, click here.
Snapshots
Highlevel realised that agency owners do the same things over and over and over again.
Enter the snapshot.
A preconfigured set of data, rules, triggers, emails, SMS messages, funnels, websites and more to suit industry niches.
Just landed a legal firm? Apply the legal snapshot. Just landed an auto dealer? Apply that. Want to make your own snapshot? Do that too.
Not only does the functionality of GoHighLevel benefit end users a great deal, but the agency owners servicing those end users as well. Enabling serious scale beyond the classic limits of agency companies.
To get started with Highlevel, click here.
SaaS Mode
Paradigm shifting and truly innovative thinking has created an entirely new business model for agency owners on GoHighLevel, enter SaaS Mode.
On the $297 and $497 plans, agency owners can now choose from premade, or custom made plans that automatically bills customers each month on a subscription basis.
This effectively flips the conversation from services to software and utility first, meaning agency owners can keep customers 10 times longer than before.
Offering both self serve software and services affects the business two fold. One, it increases the share of wallet, and lifetime value of any customer. Two, it reduces the load of fulfilment teams and cost-to-serve, while reducing net-churn.
To learn more about GoHighLevel SaaS mode, watch this video
GoHighLevel API
Finally, the API for GoHighLevel is well documented, and very robust. Currently there is a version 1 and a Version 2.
Version 1 requires no authentication beyond an API key, while V2 uses Oath authentication.
This has lead to a developer marketplace, where users can buy solutions and third part add-ons off the shelf.
For more information on the API, see this documentation here
Version 1
https://public-api.gohighlevel.com/
Version 2
https://highlevel.stoplight.io/docs/integrations/0443d7d1a4bd0-overview
To get started with Highlevel, click here.