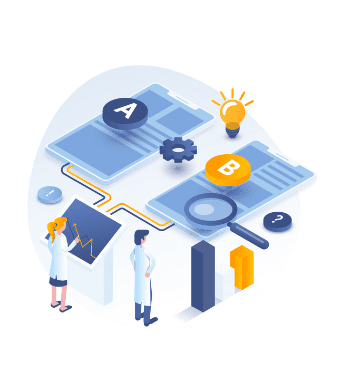 What is split testing? It's a marketing tactic used to refine funnels by determining what messaging, design, layout, etc. gets the best conversion rate. You can optimize your lead and sales generation using split tests. By utilizing Split Tests, you can have one link to a funnel page that has multiple versions. You can determine the 'split' or percentage chance that a lead visits page version A or B. Then, after a period of time, you can determine which page version had the better outcome, or conversion rate, and use that information to enhance your funnel.
Step 1: Creating a split test
Navigate to Funnels and create a new funnel or access an existing funnel.
Choose the step you want to create a split test for.
Click "Create Variation" and two options will appear. You can create a duplicate version (which will clone the default/control page), or you can create from blank.

Most commonly, you'll create a duplicate version as you will be making edits to the control page (perhaps adjusting the layout, color, or other stylistic features.)
Step 2: Running a split test
Once you've created your variation page, you'll be able to view a preview of both the control and variation pages. (In this example we made some stylistic changes to the color, fonts, etc.)
Choose the percentage for your split test, to determine how much traffic you want to be directed to the control vs.variation page. Slide the button to adjust the percentage and click "Apply Changes" to confirm.
Use the updated link that is generated wherever you use your funnel link, in order to perform the split test.
This link will 'stick' for a person once their computer is cookied, so if you test the link yourself and get the variation page, you'll always get the variation page in that browser. (You can test the link in a new browser, on another device, or within incognito mode to see if you get the other version.)
Once you've had traffic to the site, you will be able to view statistics for the pages to see which one has better results.
You can hover over the page and "Declare this as Winner" to continue with the better version of the page.
Doing this will promote the 'winning' page as the control page moving forward. It will also delete the other page. (A popup window will confirm this before you make the change.)
Click OK to accept and continue.
NOTE: You may restore an old split page that you intentionally or accidentally deleted. Simply click "restore" from archived pages at the bottom to immediately restore an old version.